James "Willow" Williamson,
Jim was a true Champion Fella on & off the Bike, a great mate, always up for a spin, chat & a laugh.
I'm going to miss you buddy as I'm sure you'll be truly missed by many & my heart really goes out to Nikki & his family & of course Lewie.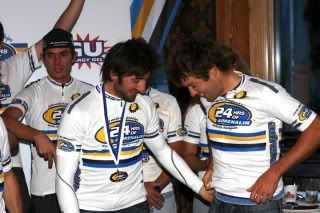 Jim & I checking out our new threads at 08 Worlds Presentation.
Hope you all have a great Easter, Get out for a spin & think of Jim.
Troy
PS. Terra report coming your way soon & Good luck to all racing the 24 Nationals.