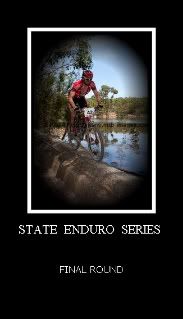 Well I did manage to get on the start line at Officer on the weekend for the 6hr held by the Fatties for the last round of the state Enduro series,
Going into it with a slim 11 point advantage over the very much in form Phil Orr.
Not one to make excuses, it was always going to be a tall ask, with the preparation going in basically consisting of me flat on my back for 9 days trying to get over a couple of bulged discs in my lower back, getting back on the bike just 2 days prior, amazingly feeling more comfortable on the bike than any where else, go figure?
We all know about the theory of tapering for an event, however that's bordering on ridiculous, but you've got to be in it to win it!
Before I get into how the day went down, A huge thanks must go out to Dominic from
1stPlaceOsteopathy
for all his great advice & 1st rate treatment, without him I wouldn't have been on the start line, Simple as that.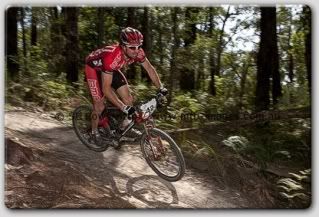 The race started off at a fairly reasonable pace, nothing to crazy, with Adam Gibson being the only Solo rider getting away off the front, as he was not in contention for the series, I was more than happy to let him go, Phil was basically glued to my wheel for the first 4 - 5 laps, right where I wanted him as it enabled me to dictate the pace & keep an eye on him.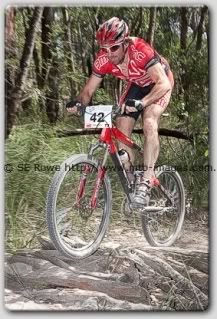 Due to being slightly cautious of my back I was opting for Granny gear on some of the steeper climbs, where under normal circumstances i would choose to power up in the middle chain ring, especially with someone like Phil on your wheel, so as not to show weakness,
However I chose to try & conserve, in doing so shifting into granny a smidge too early without enough tension on the chain it dropped passed onto the bottom bracket, causing me to stop to put the chain back on, giving Phil, Joel & Paul a 30 second gap.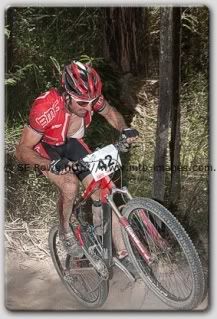 Phil chose this to be an opportune time to attack, this being a defining moment in the race, I had no other option than to chase & try & get back on, putting in a decent effort on the next two climbs, they were within reach, then I over cooked it going into the shoot, (any of you who have ridden Officer know where I'm talking about, for those who haven't it's a steep rutted out bumpy descent that kinks left toward the bottom)Anyway I crashed quite heavily ending up with my mid rift wrapped around a fairly chunky tree.
After shaking the dust off & extracting myself from the tree, I couldn't believe I was OK apart from dirt ground grazes rite down the right side of my body, then noticing a wet sensation in my shoe, after checking my bottle for cracks, looked down to see it was indeed claret filling my shoe coming from a decent cut just bellow the knee, coating the shin & calf in a deep shade of Winns Coonawarra Shiraz Vintage 1999,
Proceeding to chase as the cut coagulated & a stoked feeling that the back had survived the impact, it became evident the rear hanger was bent as the gremlins were alive & kicking in the drive train, with a quick stop to realign in the attempt to quieten the gremlins down, I was again on my way.
Continuing to tap away as the heat of the day was kicking in, just hanging onto the slim thought that Phil too could have some bad luck,
That didn't happen, it was Mwa who had another mishap to slow progress in the shape of a flat tire whilst Phil continued to power on to a well deserved win & snatch the series in the process.
O well that's Racing & least I can go away from the experience knowing that I went down swinging.
I ended up 5th on the day & 2nd in the series, definitely no shame in coming 2nd to someone with the XC pedigree & form that Phil has, Congtrates Mate!
Again a huge thanks to
Dom
for getting me on the start line,
Andy @ Kaos
for keeping my bikes Running for what has been a long season of racing & to
Dirtworks
&
BMC
for your continued support,
MTB Images
for adding some colour to the report, last & so far from least to all the clubs who hosted the series, we are very lucky riders to have so many great trails all within easy reach of the Melbourne CBD.
Ride On,
Troy