TOUR DOWN UNDER 2010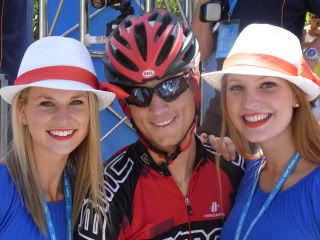 Martin Kohler with the tour girls.(Not all about racing)
Whilst life has slowly been getting back to normal, if there is such a thing, let's just say now I'm home, I've been working hard to compute & recap the experience, as so much was condenced into the two weeks spent in Adelaide that it feels like I was away for months.
Anyway for fear of boring you with all the details I've decided to keep the text minimal by sharing my personal highlights of the tour & let my pictures with captions tell the rest of the storey.
Grab youself a cuppa, strap yourself in & enjoy the TOUR DOWN UNDER from the inside looking out on board with TEAM BMC & a bit of MTB NATIONALS just to keep it real:-)
Rolling down a pier at the beach with Cadel & the boys to check out the view after the racing was done.
Definate highlight was getting to know Cadel & a few of the boys on a personal level, mainly the Swiss lads being Martin Kohler (Swiss Junior Champ & Stage 1 Best young rider & sprinters jersey winner), Thomas Frei (Formerly of Astana), Karsten Kroon from the Netherlands(Very experienced pro,Started his Career with Rabobank then moved across to CSC which became Saxobank) & George Hincape (Needs no introduction, Tour veteran & former right hand man for Lance)
The one common thread I noticed amongst the team was a relaxed confidence without even a hint of arogance, there is such a great vibe throughout the whole team, I had a bit of a chat about this fact with Cadel, to quote him,
"I am the happiest I've been in my whole Cycling career due to the fact of being surrounded by such good people, right from the top being Andy Reis, (Co Owner & Sponsor of the team) he is such a cycling enthusiast with a huge passion for the sport which filters down right throughout the team"
It's no secret that when you're happy & motivated is when you produce your best & likewise for those around you, so keep an eye out for big things to come from the BMC PRO TEAM.
Enjoy the photos.
The boys having a laugh before final stage.
You'd be laughing too if your rig looked as good as one of these puppies.
Rolling out with the boys before final stage, the crit, even got to cut a couple of laps with them, mainly chatted to George about Mtb & how he needs to upgrade his XTR to Sram XX.
George & Thomas behind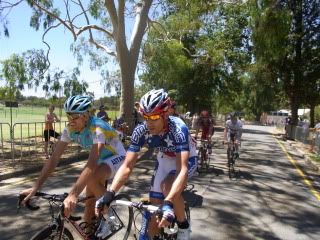 Rolling around with the boys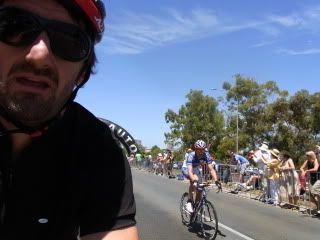 Cummon George keep up :-)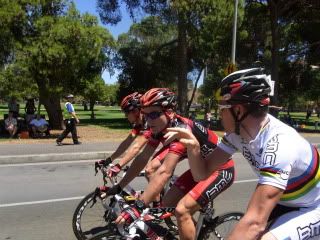 Cadel chatting to the boys
Cadel Having a chat to the press.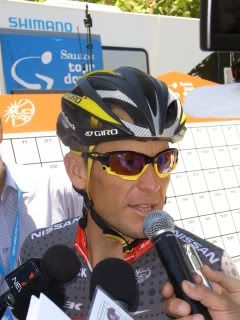 You may recognise this guy.
Martin & I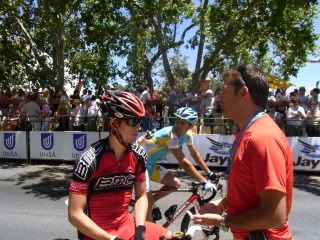 Martin & John (Team Director)discussing tactics prior to race.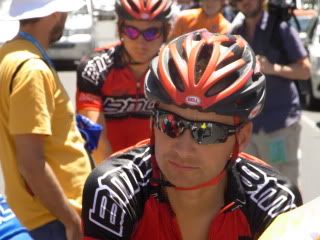 Karsten Kroon with his game face on.(Mauro Santambrogio behind)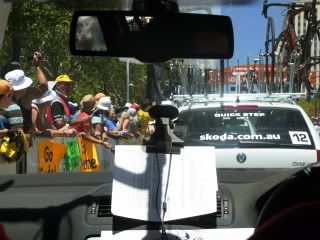 The race is on.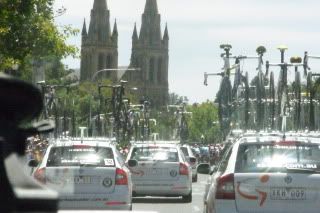 City of churches.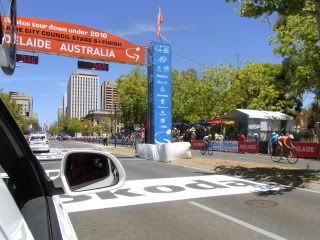 Rabobank provokes the first break which Martin got across to.
Stay tuned more to come.
Troy