This event just keeps getting better, with improved trails, climbs rewarded with fun descents linking up with fast & flowing single track, the event village again having a great vibe with the inclusions of a Hawaiian style bar, band & DJ's back again & a big crowd on hand to enjoy the festivities & show their support for the some 465 riders.
Lets not forget it's set on the cliff tops of the great ocean road looking down over Angealsea beach,
Our mate Hui turned on the weather too with an absolute perfect mid 20s day & a nice balmy night, making the ride all that more pleasurable.
Oh ye there was a race on too, with 3 & 6hr on offer to ride Solo or in a team with your mates.
Thanks to
Mtb Images
once again I can use their pics to help out with my race report.
Got myself off to a good start gaining around a 1 minute 30 lead on the solo field approx 3/4 into the first lap without feeling I was digging too deep.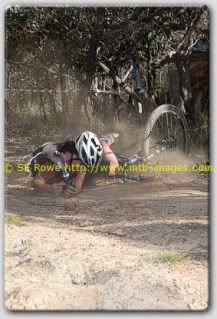 Then before I knew it I was biting the dust just like this lass, whilst the dust was settling I realised the fourstroke had not got off as lightly as I & was not going to handle as well as usual as the Bars had stapped clean in two......Boo....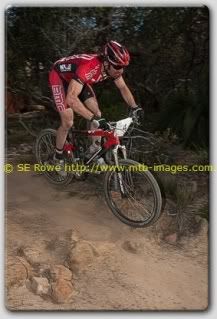 Made my way back to the event village thinking my day was done & it was time to enjoy the bar & bands, Event organizer Mick Sheean had other ideas, he graciously had his bike waiting for me to saddle up, thanks "Mick"
Whilst out circulating on Micks Bianchi Carbon Hardtail deep in the traffic, unbeknown to me the boys back in transition where hastily slapping a new set of bars back on my FS 01, thanks "Norm Douglas" for spannering & "Kaos Shane" for the bars.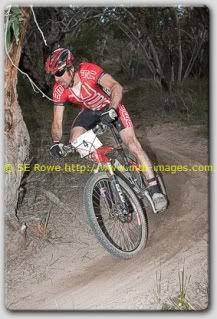 With everyone else putting in so much effort to keep me out there, it was my turn to put in!
Was always going to be a tall ask giving the likes of Scotty Chancellor & co a 15-20min head start, not to mention clear track whilst I was eating dust back in the traffic.
Didn't stop me from trying though as the legs were feeling good, then when the 3hr race was done I managed to get some clear track & put some hot laps in, the chase was well & truly on, as night fell I knew this meant there was only a couple of hours to go, digging in really deep & the course hooking up well due to a bit moisture in the night air,
My lap times were dropping as the hunted were increasing along with the added encouragement from the other side of the bunting, with Norm again leading the charge with cheer squad in toe & giving me lap splits,
I hooked in harder & harder, giving it everything, I was pulling them back in 2-3minute chunks per lap only to basically be beaten by the clock.
Finishing up a mere 3mins off the podium in 5th place, Oh well you can't win em all & still not a bad result from 160 solo starters & considering the early mishaps.
A big thanks to all concerned for keeping me circulating, Norm had the Formula 1 pits going on with a full pit crew running around, good on you guys, resulting in me having a most enjoyable afternoon of racing.
Plenty coming up too so stay tuned,
- 7th Nov - Gravity 12hr
- 15th Nov - Officer 6hr Last round of State series, in the lead by a mere 11 points after 6 rounds.
- 28th Nov - Kona 24hr
Warmer weather too,
So get out & ride your bike, if don't have one, best you go & see Andy @
Kaos
& get one, plenty of flavours to choose from & a great time of year to pick up a bargain on 09 stock!
Troy